LES CHEVAUX BLEUS
Picture APRH : AQUARELLISTE defeats Nadia in Prix de Diane 2001!

When the blue horses, generation after generation, meet in victory and talent ...
Have raced under the colours of Mr. Daniel Wildenstein
---

2007 Highlights

Peintre Célèbre is particularly Sire of Sudan, Grand Prix de Milan's winner for Gary Tanaka, and of the classic hope Airmail Special, impressive in the Prix du Lys (Gr.3).

2006 Highlights

Flat races

Owned by Sven Hanson and Carina Klingberg, the marvellous daughter of Peintre Célèbre and Specificity, Pride shines worldwide. She takes home, at 6, three groups I, the Grand Prix de Saint-Cloud, the Champion Stakes and the Hong Kong Cup. Also placed second to Rail Link in the Prix de l'Arc de Triomphe, Pride is definitely the Mare of the year, in front of the superb Ouija Board.
2005

Flat races

Westerner triumphs in York, after a battle with Distinction, and brings back the Gold Cup to France. In october, Westerner is the second of the Prix de l'Arc de Triomphe (Hurricane Run).

2004

Flat races

Castledale, by Peintre Célèbre, wins the famous Santa Anita Derby (Gr.1).

Westerner joins Buckskin in racing history, with a second Prix du Cadran, consecutively. Three weeks before a second Prix Royal-Oak!

Jumping races

A second Grand Steeple-Chase de Paris (Gr.1), for Champion Jumper Kotkijet. With a touch of great class!

2003

Flat races

A great start at stud for champion Peintre Célèbre! Super Célèbre is second to Dalakhani in Prix du Jockey Club and Prix Lupin.
German Derby and Pokal-Rennen winner, Dai Jin will remain as the first graded I stake winner of the famous chestnut horse. Imitated, a few monthes later, by the 2-yo Pearl Of Love, Gran Criterium winner in Milano.
Joe Bear is placed at this level, as a second of the Secretariat Stakes in Arlington Park.

And, last named but not least, Vallée Enchantée is certainly his first crop best filly. In december, she adds the Hong Kong Vase (Gr.1) to an already impressive honours list, rich of two group 2 victories, Prix de Pomone and Prix du Conseil de Paris.

At 4, Bright Sky comes back to the track, as a second to Falbrav in Prix d'Ispahan, before defeating Six Perfections in the Prix d'Astarté (Gr.2) on the mile.

In the fall, Westerner, a real brave, wins Prix du Cadran and Prix Royal-Oak.

Jumping races

By Lost World and Newness, Nickname triumphs in Prix Alain du Breil, at the end of the spring, and in Prix Renaud du Vivier (Gr.1), during the fall. He obviously keeps his rank of best young hurdler in Auteuil.

2002 - Aquarelliste won her fifth race, the third in a group I, in Prix Ganay (Gr.1).

BRIGHT SKY, one year after AQUARELLISTE, like Madelia and Pawneese in 1977 and 1976.
Picture APRH
Bright Sky (Bright Moon) keeps on drawing the remarkable blue line through the Prix de Diane's honour lists. In the fall, she will devour the Prix de l'Opéra (Gr.1).

2001

Flat races

Aquarelliste, 4 wins Prix de Diane (Gr.1) and Prix Vermeille (Gr.1), 2nd Prix de l'Arc de Triomphe (Gr.1)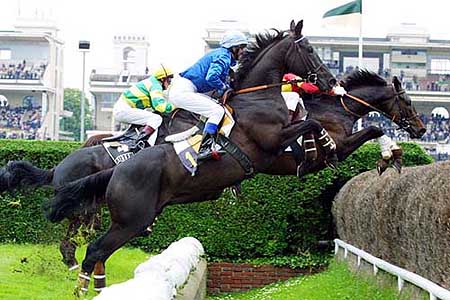 KOTKIJET
Prix Ingré 2001 : on the Rail-Ditch and Fence
Picture APRH
- click the picture to enlarge it -
Over the jumps

Kotkijet - brother to French Jumper of the century Katko - a splendid success in Prix Murat (Gr.2), followed by a win in Prix Ingré (Gr.3), and The Triumph in Grand Steeple-Chase de Paris (Gr.1).

2000 highlights

Over the jumps

Boisnoir - Prix Ferdinand Dufaure Grand Steeple-Chase des 4 ans (Gr.1)
N'Avoue Jamais - Grande Course de Haies des 4 Ans (Gr.1)
the somptuous duel Kotkijet - Homme du Jour in Prix Georges Courtois (Gr.2).
---
M. Frédéric SAUQUE
15 bis, rue Baronne de Rothschild
60 270 GOUVIEUX
FRANCE
Tel+33 : 03.44.57.25.09
Fax+33 : 03.44.57.31.70
E-mail : sauquefr@aol.com
---