TESTA ROSSA (Aus)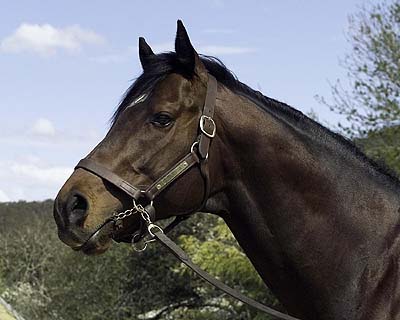 bay horse
1996 - 1m 64
- Other pictures. Click on Testa Rossa to start-
High opinion and success at the Deauville Yearling Select Sales for the first european yearlings by TESTAROSSA
5 featured = 5 sold
Average for August 2005 : 53 400 euros
RACE RECORD
24 races, 13 wins, 3 times placed second and Aus. $ 3 034 191

Australian Champion. Six times group I winner. Australasian Sprinter of the Year at 3.

Group I winner at 2, 3 and 4.


VATC Futurity Stakes (Gr.1), Caulfield 1 400 m
VRC Emirates Stakes (Gr.1), Flemington 1 600 m
VRC Lightning Stakes (Gr.1), Flemington 1 000 m
VRC Sires' Produce Stakes (Gr.1), Flemington 1 400 m
VATC Vic Health Cup (Gr.1), Caulfield 1 400 m
VATC Eat Well Live Well Cup (Gr.1), Caulfield 1 400 m
VRC Maribyrnong P (Gr.2), Flemington 1 000 m
AJC San Domenico Stakes (Gr.2), Randwick 1 000 m
AJC Up and Coming Stakes (Gr.2), Warwick Farm 1 100 m
VATC Debutant Stakes (L.), Caulfield 900 m
MVRC Ian Mc Ewen Trophy (L.), Moonee Valley 1 000 m
GCTC Magic Millions (L.), Gold Coast 1 200 m
AJC Prospect Hotel Handicap, Randwick 1 200 m

2nd VATC Caulfield Guineas (Gr.1), Caulfield 1 600 m
VATC Blue Diamond Stakes (Gr.1), Caulfield 1 200 m
VRC Ascot Vale Stakes (Gr.2), Flemington 1 200 m

4th MVRC WS Cox Plate (Gr.1), Moonee Valley 2 040 m
PRODUCE RECORD
Australian racing news

2004 - First runner - first winner for Testa Rossa

ROSSA GLORY wins the Maribyrnong Trial Stakes (L. - 4, 5 f), october 2, at Flemington (Melbourne)

and, november 6, JIANG offers a first group 2 to TESTA ROSSA, the Maribyrnong Plate, at Flemington.

2005 - SPORTIVO wins the Gimcrack Stakes (L. - Perth). Testafiable is placed third in the Borrelli Hand Made Clothing Sires Produce Stakes (Gr.1 - 2-y-o) at Eagle Farm Race Track, then third of the Hardy Amies Stan Fox Stakes (Gr.2).

Update October 2, 2005 - 34 Runners, 14 winners (3 Stakes Winners), earning more than 600 000 $ (first crop)

This success places him among the First Crop Leading Sires in Australia.

Australian sales news

Yearlings featured at Magic Millions Select Sale in Australia, in january 2004. Average : Aus $ 108 893.

"Testa Rossa has made a huge splash on the Gold Coast, breaking the bench for the highest ever average by a Victorian first season sire at the Magic Millions.
With 11 up for grabs, 11 were sold ... recording an average of Aus $ 108 893.

Leading trainer Peter Moody is chuffed at snaring a Testa Rossa for his Caulfield Base, forking out $ 135 000 on the Gold Coast for the flashy chestnut from Jamelden Echo : "I love the look of the Testa Rossas - strong athletic types and they appear to have really good temperaments. They should go early and, indeed, I purchased the colt with the intention of being back for next year's race".

2005 : TESTA ROSSA features the two Top-Prices at the William Inglis & Son Premier II Yearling Sale, Melbourne.

European black type news

2007 - The grey 3yo filly TESTAMA wins the Prix de Bagatelle (L.) at Maisons-Laffitte. The 2yo Blue Chagall places second of the Critérium du Fonds européen de l'Elevage (L.) at Deauville, before to win in brilliant style the always important Prix des Chênes (Gr.3) at Longchamp.
Macellya places third of the Prix Thomas Bryon (Gr.3) at Saint-Cloud.

2008 - SILENT SUNDAY, Prix de la Cochère (L. - 8 f - Chantilly), 4th Prix Imprudence (L. - 7 f - Maisons-Laffitte), des Lilas (L. - 8 f - Saint-Cloud)

2009 - The 4 yo BLUE CHAGALL, Prix des Chênes winner at 2, captures the Lure Stakes (Gr.3 - Santa Anita - 8 f).
At 5, TESTAMA is fourth of the Prix du Chemin de Fer du Nord (Gr.3) at Chantilly.
SILENT SUNDAY is third of the Prix Jacques de Bremond (L.) at Vichy.

2012 - ORTENSIA is double group I winner, Al Quoz Sprint at Dubai, Nunthorpe Stakes at York, and fourth of the July Cup.
PEDIGREE
PERUGINO (Usa)
1991

DANZIG

Northern Dancer

Nearctic
Natalma

Pas de Nom

Admiral's Voyage
Petitioner

FAIRY BRIDGE

Bold Reason

Hail to Reason
Lalun

Special

Forli
Thong

BO DAPPER
1985

SIR DAPPER

Vain

Wilkes (Fr)
Elated

Sikri (NZ)

Golden Plume (GB)
Miss Sikri

BODEGA

Without Fear (Fr)

Baldric
Never Too Late

Salon (GB)

Fortino
Soirée
TESTA ROSSA
By PERUGINO (1991). 3/4 brother to Sadler's Wells and Fairy King
At stud since 1995.
Sire of Testa Rossa, Sudurka (VRC Racing Club S. - Gr.1, MRC Oakleigh P. - Gr.1, VATC Autumn S. - Gr.3), Tickle My (VATC Eclipse S. - Gr.3, VRC Rose of Kingston S. - Gr.3), Banyumanik (Grosser Preis der Dortmunder Wirtschaft - Gr.3 - twice, Köln Jagua-Meile - Gr.3), Gino's Spirit (Belmont Noble Damsel H. - Gr.3, Yarmouth John Musker S. - L.), Perugino Bay (Hollywood Bold Reason S.), Sa Miniera (Roma Criterium Femminile - L.), Annieirwin (Glencairn S. - L.),
1st dam
BO DAPPER, unraced. Dam of 5 winners :
- TESTA ROSSA
- BRIGHTER SCENE (Scenic), 15 wins, $ 405 050, QTC Sir Edward Williams H. (L.), Owners' Association Cup, Shail H., Tontonan H., 2nd BTC Club Sprint (Gr.3), Exhibition Cup Hdp. (L.), Recognition S. (L.), 3rd QTC Stradbroke H. (Gr.1), Labour Day Cup (Gr.1), Werribee Cup (L.)
- COLIN'S SPECIAL (Scenic), 7 wins, VATC 3YO Hdp.
- DAPPER'S ACE (Top of the Pack), 1 win in Australia. Dam of a winner.
- Dolphin's Ace (Dolphin Stree), unraced. Sire in Australia.
- Stromberg Carlson (Redoute's Choice), 1 win, 3rd Doomben Slipper (L.) (04)
2nd mère
BODEGA, 3 wins in Australia, WATC Karrakatta Plate (Gr.2), VRC Maribyrnong Trial S. (L.), SAJC Cinderella S. (L.), 2nd SAJC Dequetteville S. (L.), WATC Supremacy Quality S. Sister to PRIVATE SHOW, WAR CHEST. Dam of 7 foals, 3 raced, 1 winner :
- Mr GUDBOD (Gielgud), winner
- JUBAIL (Double Century). Grandam of ORTEGAL BAY (High Regard), winner BTC 2YO H.
- BO-ARCHER (Arch Sculptor), unraced. Dam of :
- JOINDRE LAD (Joindre), 6 wins, $ 52 950, SAJC Grooming H., Hi-Tide H.
- Sir Archer (Sir Dapper), 6 wins, SAJC Dairy Vale H., 2nd Liz Davenport Classic Hdp. (L.)
3rd dam
SALON, winner. Half-sister to the dam of My Hero and to the grandam of UNCLE DICK. Dam of 11 foals, 9 raced, 7 winners :
- BODEGA - see above
- WAR CHEST, 5 wins, SAJC Fulham Park Plate (L.), VRC Criterion H., 2nd VATC Blue Diamond S. (Gr.1), 3rd VRC Moomba Plate (L.). Sire.
- PRIVATE SHOW, SAJC Dequetteville S. (L.)
- LOVELAND, 4 wins, PARC Jovial Downs Stud H. Grandam of SHE'S A PIPE DREAM.
- WEIN KELLER, 2 wins, SAJC Fairfield H. Dam of :
- Dynastic, 3rd VRC Sires' Produce S. (Gr.1).
- EBONY EYES, WATC Nursery H. Dam of :
- BUNGLER, 10 wins, $ 108 890, WATC Hyperion S. (Gr.3), H G Bolton Invitational S. (L.)
- BUNGLING, 9 wins, $ 126 940, WATC Strickland S. (Gr.3), 2nd Pinjarra Guineas (L.). Sire.
- PROUD TREATY, 13 wins, $ 139 345, WATC York H. (L. - twice), Anniversary Cup (L.)
- SANSOLAN, 4 wins, WATC Graduation S. Dam of :
- WORD OF HONOUR, $ 426 642, WATC Perth Cup (Gr.1), 2nd WATC Perth Cup (Gr.1), 3rd WATC Australian Derby (Gr.1).
- LORD OF STRATHCONA, WATC Queen's Cup (Gr.3)
- EYES FOR YOU, unraced. Grandam of MAC'S VICTORY, $ 114 348, AJC Australia Day Cup (L.), 3rd Gosford Gold Cup (Gr.3)
- Tuesday's Child. Unraced. Dam of FINAL CHILD, SAJC Escort Cup (Gr.3). Grandam of PUBLIC HOLIDAY.
---
TESTA ROSSA

Contact


Patrick CHEDEVILLE
61 200 SEVIGNY - FRANCE

Phone : + 33 2 33 67 07 65 - Fax : + 33 2 33 35 22 58
Mobile : + 33 6 08 83 27 62

E-mail : HARAS.DU.PETIT.TELLIER@wanadoo.fr
---