Lot 65

UP AND DOWN
Valanour - Muirfield (Crystal Glitters)
bay filly - April 24th, 1998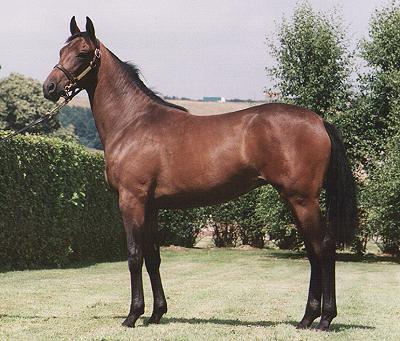 Valanour

Lomond

Northern Dancer

My Charmer

Vearia

Mill Reef

Val Divine

Muirfield
1986

Crystal Glitters

Blushing Groom

Tales To Tell

Deb Marion
1970

Debbysman

Marion
Qualified F.E.E. - Breeders' Cup
By VALANOUR (1992)

5 wins. Grand Prix de Paris (Gr.1) beating SINGSPIEL and DIAMOND MIX, Prix Ganay (Gr.1) defeating LUSO and SWAIN, Prix de Guiche (Gr.3) beating HOUSAMIX, , Prix d'Harcourt (Gr.2), Prix Ajax, 6th Irish Champion St. (Gr.1).

Retired to stud since 1997. His first crop are yearlings.
1st dam
MUIRFIELD, 2 wins, Prix de Segonzac at Compiègne, placed 3 times, 3rd Prix de Crépy at Compiègne, 4th Prix Général Saint-Didier at Evry. Dam of 4 winners from 6 foals and 5 of racing age :
- Ozi Dream (f., Sanglamore), 1 win, Prix du Grand Cerf at Chantilly (99), placed 3 times, 2nd Prix de Corbon at Saint-Cloud (99)..
- Zirconi (c.1996, Zieten), 2 wins at 2, Prix du Premier Pas, du Mont de Pô at Chantilly, placed 7 times at 2 and 3, 2nd Prix du Bois (Gr.3) at Deauville, Eclipse (Gr.3), La Flèche at Chantilly (L.), 3rd Prix de la Salamandre (Gr.1), Critérium de Maisons-Laffitte (Gr.2), Prix de Cabourg (Gr.3) at Deauville and 618 000 FF.
- Tarabela (f.1997, Johann Quatz), in training.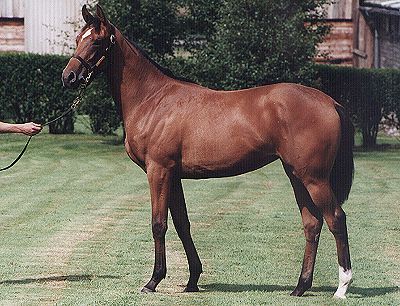 TARABELA, yearling.
2nd dam
DEB MARION, 6 wins, placed 5 times, $ 84 732, Orchid Hdp.(Gr.3), Gallorette Hdp.(Gr.3), Rare Treat St. Dam of 4 winners :
- Social Whiff (f., Bold Bidder), unraced. Dam of :
- PROUD BIDDER (f.), 4 wins, placed 6 times, $ 38 985, Indian Summer Hdp. Dam of :
- ZINOV'S FINALE (f.), 7 wins (99), Oklahoma T.B.A. Futurity (L.), 2nd Ricks Memorial Hdp. (L.), 3rd Azalea Hdp. (L.), and $ 135 555.
- SHELBY'S WILL WIN (f.), 3 wins, Oklahoma Stallion St.(L.).
- Exalted One (c.), 4 wins, 3rd Nebraska Stallion Derby (L.).
3rd dam
MARION, 3 wins, placed 3 times. Dam of 5 winners :
- PRODUCER (f.), 10 wins, Prix de La Forêt (Gr.1), de l'Opéra (Gr.2), de Royaumont (Gr.3), Chloé (Gr.3), 2nd Irish Oaks (Gr.1), 3rd Prix de Diane (Gr.1). Dam of 5 winners :
- BACH (c.96), 1 win, Chesham St. at Royal Ascot (L.) (99).
- DANCING GODDESS (f.), 2 wins at 3, Woodpark Stud Pearl Sprint (L.), 2nd Irish 1000 Guineas (Gr.1), 3rd Desmond St.(Gr.3). Grandam of Karakia, 2 wins in GB, placed in the USA (99), 2nd Virginia Hdp. (L.), Alabanza, 8 wins in Japan, $ 1 710 418 (99), 2nd Stayers St. (Gr.2).
- Las Flores (f.), 2 wins, 2nd Champagne Ruinart Oaks Trial St.(L.), 3rd Oaks d'Italia (Gr.1), 4th John Musker Fillies St.(L.).
- Music And Dance (f.), 2 wins, 25 915 pounds, 2nd Philips Electronics St. Hdp. (L.).
- D.O.LADY (f.), 8 wins, Long Island Hdp.(Gr.3), 3rd Firenze Hdp.(Gr.2).
- My Malchen (f.), 3 wins in the USA. Dam of 5 winners :
- YANKEE AFFAIR (c.), 22 wins, $ 2 282 156, United Nations Hdp.(Gr.1), Man O'War St.(Gr.1), Turf Classic (Gr.1), Red Smith Hdp.(Gr.2), Laurel Turf Cup Hdp.(Gr.3), Appleton Hdp.(Gr.3), Elkhorn St.(Gr.3), King Edward Gold Cup Hdp.(Gr.3), Oceanport Hdp.(Gr.3), 2nd Budweiser International Hdp.(Gr.1), Hollywood Turf Cup Hdp.(Gr.1), 3rd Arlington Million (Gr.1).
- Perceiver. Dam of :
- Perceptive Heiress (f.), 3 wins, 3rd Nandi S.(L.)
---
PHONE and FAX CONTACT
for
UP AND DOWN



Mrs. Gilles Forien
Phone + 33 : (0)2.33.35.97.02 / (0)2.33.39.92.48
Fax + 33 : (0)2.33.36.26.37
E - mail : harasrm@aol.com
---