QUARTZ DU VALLON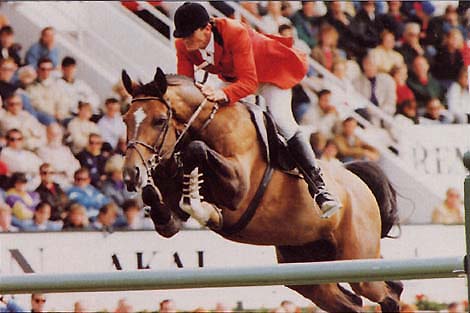 Bay horse, 1m 72
SF, 1982

Owner : Haras de la Fontaine
Olympic horse
37 % of his foals = ISO > 120
ARTICHAUT

PIERREVILLE

PLEIN D'ESPOIR

Orange Peel

Imposante

DUCHESSE

Ivanoé

Irlandaise

JARIOSE

FURIOSO

Précipitation

Mauréen

REACTION

Italien

Riquette

DOLORES

ORIENT

PLEIN D'ESPOIR

Orange Peel

Imposante

INSOUPCONNEE

Quoi Donc

Silvia

TELSTAR

IBRAHIM

The Last Orange

Vaillante

PREMIERE DE MAI

Ultimate

Qu'elle Est Belle
PERFORMANCES

Finalist at Fontainebleau Young Horses (4 and 5-y-o's), and at 6, 11th Grand Critérium, 24th of his generation.

Great international winner :

- 1991 : 6th La Baule European Championship, 2th Nations' Cup at Aix la Chapelle, 5th at Rome, CSI winner at Florence), placed in CSI and CSIO at Rotterdam, San Marin, Loncin.

QUARTZ DU VALLON shares with MILTON, the rank of Best Horse in the World in Nations' Cups.

- 1992 : Spanish Team Member at the Barcelona Olympic Games, 4th Nations' Cup at Rome, CSI winner at Cervia, placed in CSIO and CSI at Aix la Chapelle, Madrid, ...

- 1993 : 6th Spanish Championship at Sevilla, placed in CSIO at Lisboa, San Marin, in CSIW at Haarus, Amsterdam and Bordeaux

- 1994 :six bars winner (CSIO - Barcelona), Grand Prix de Malaga winner, 4th Grand Prix Xeres, 5th Grand Prix de Sevilla, winner of a trial at Cordoba.

Energetic with much blood, brave, very regular and calm, QUARTZ DU VALLON is definitely the Spanish Team's pillar in Nations' Cup. A real professional horse!

- 1995 to 1998 : stopped by an accident

- 1999 : back to eventing

At stud since 1992.

PRODUCE RECORD
He transmits Model, Style, a fantastic mind, Blood and his professional attitudes.

Sire of Bucephal du Vallon ISO 127, Chris du Chesnay, sire in Belgium - 3rd Concours des Etalons de 3 ans at St-Lô, Caïd de Bel Air ISO 134, Cybelle du Vallon ISO 134 - CSI in Spain,...

Dambury de Falère ISO 133,

Enzo du Garum ISO 136, Emile du Prieuré, finalist at Fontainebleau (dressage)

Funny Quartz, sire, "élite" at 4 ISO 133, For Ban ISO 128, Fonceur de Bel Air ISO 127, Flora Paluelle - 4th Foals' Championship at Douai, Furieux du Vallier,

Gaby de Vanrie ISO 126, Gabjie de la Vanrie, Hiram de Cambossi, Hiroise, Jenny Jolie,

Iroïse Mail, Irlandaise, I Am In,
QUARTZ DU VALLON
By ARTICHAUT.

Sire of MUGUET DU MANOIR, BOUTON D'OR (ISO 149), National Sires.

Sire of ONZE JUIN (ISO 167), private Sire, GLANDOR (CSIO USA, ISO 163), GRACIEUSE K (CSI, ISO 157), KERMESSE DE VERNIX (winner abroad), LERIDA DE CHAISE (ISO 144), LUDWIG II (ISO 145), MARLY DE GREVES (winner abroad), NOVELLA II (ISO 147), NEGATOR DU PONCEL (CSIO GB), ORCHESTRE (CSIO, ISO 159), PINGUET (ISO 142), SAUVEUR II (ISO 152), SUN DE LAUNAY (ISO 145), ...
1st dam
DOLORES. Dam of :
- Marly Fleuri. CSI for Italy.
- Novella II. CSO winner, ISO 147.
- Orélia Normande ISO 105
- Salvador. CSI for Switzerland.
- Tournebride II. CSI for Spain.
- Uckange II. ISO 109
2nd dam
TELSART. Dam of :
- Floridor. CSO winner, ISO 129
- Nivéa IV. Dam of Telstar II, ISO 129 and Urieux, CSI in Belgium.
---
Le Cheval Bleu
A Blood-horse Internet Magazine
index
© Le Cheval Bleu