IMPALA DES FRETTES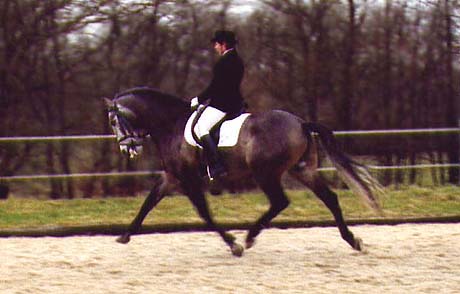 grey horse, 1m 66
1996
Lusitanian Sire
For Lusitanian mares and all blood crosses

IMPALA DES FRETTES gained the highest record at the Selection of the Sires in Blois in october 2001.
Very strong for the blood he represents, he beautifully walks, possesses a royal gait trotting, has a perfect balance cantering, much natural ability to lower the hips, and is also a brilliant jumper.
A smooth and energical character, his confidence in mankind, a remarkable intelligence ... IMPALA DES FRETTES definitely is an extremely attractive horse.
IMPALA DES FRETTES

BACCARAT HBC

BAILADOR MTV

Que Ba MTV
Chamata MTV

JAMAICA HBC

Danubio II CNA
Xaropada I HBC

QUISICOSAT BPB

KARABI LFA

Orgulloso VI IMT
Querena FSA

LUZIA RBO

Imperador FIC
Graciana RBO
IMPALA DES FRETTES
His Sire BACCARAT gained 80 % of the maximum record at the Lion d'Angers Sires' Show in 1987, with a 17/20 while mounted, so taking the first place.
His own brother BOULOU DES FRETTES (IDR 121) was bought by Marietta ALMASY, Dressage French Champion 2001, and is eventing in Grand Prix, this year.
Two other brothers FLIRT DES FRETTES and GIGOLO DES FRETTES are also rated.


---
Contact the owner

Miss Annie Augras
Haras des Frettes
28 160 Frazé
France

Phone+33 : 02.37.29.52.48
---