Join Club Galop! Join Club Trot.

BECOME A RACEHORSE OWNER AT RESTRICTED BUDGET IS POSSIBLE !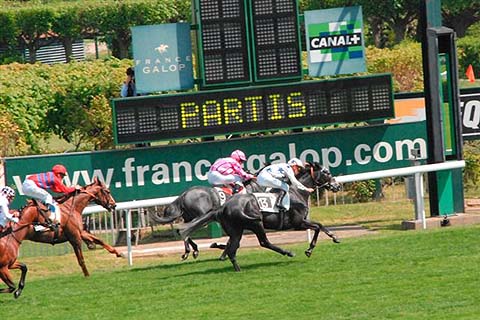 We are a group of fans of horses, emotion and victories!
If you would like to participate in the selection and purchase of horses, live the exploits of your champions, savour the pleasures of winning, benefit from all the advantages of being an owner,
It is easy to join us, simply purchase one or more shares in the stable of your choice, which will give you all the privileges and pleasures of a horse owner :

- free entry to the racecourses
- access to the reserved enclosures (all french racetracks) and to the private space "Le Club"
- news of your horses
- visiting the training stables
- see them run
- listen to the comments of jockeys and trainers
For 762,25 euros, you can own a share in all the horses of your selected club.

In addition to this purchase price, you will need to add from 730 to 950 euros every year towards the keep and purchase of new horses (your share can be sold if you decide to withdraw from the club).
---
Contact
Pascal Adda
Manager
Nine times Amateurs' Cravache d'Or, twice European Champion, 422 wins.
Phone + 33 1.34.93.18.43
Mobile + 33 6.03.12.57.45
E-mail : info@cheval-etoile.com
---
Le Cheval Bleu
A Blood-horse Internet Magazine
summary
© Le Cheval Bleu