GIESOLO DE LOU
GIESOLO DE LOU and Jean-Etienne Dubois, without any emotion, win the Trot World Cup 2001,
frankly defeating First de Retz, Jackhammer and Gébrazac. Gobernador was disqualified at the start.
Time record : 1' 12" 2.
Picture APRH
NO GELDINGS ALLOWED !
In the 70's with Iris de Vandel, last year with Giesolo de Lou and next year with the new european champion Victory Tilly and again with Giesolo de Lou, it is always the same old story!

The first Prix d'Amérique of The Spiritual Century will be raced by a tremendous coalition of fantastic horses, ... to the exclusion of two out of the four or five best ones.

Not only in the middle of nowhere, but also in France, time has stopped by.

In Italy, clocks run again...

Giesolo de Lou and Victory Tilly have raced in Prix Gaetano Turilli and the famous swedish horse has even won. They should meet again in the Grand Prix des Nations 2001 (Gr.1). Italie 1 - France 0.

To come back on our old grounds, the trainer of the best american horse Magician wanted to race his champion in the Prix d'Amérique 2002. Unfortunately, Magician is also a gelding.

No comment!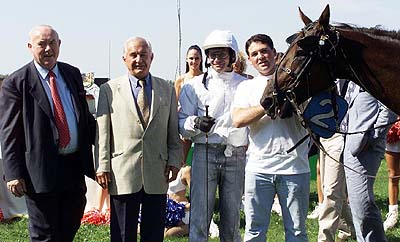 Already celebrated on many international tracks,
GIESOLO DE LOU waited a long time to hear the Vincennes' s crowd
applausing him in a main event... Picture APRH.
GIESOLO DE LOU - Race Record
Giesolo de Lou - European Champion 1999. Second to Victory Tilly in the European Championship 2000. World Cup 2001 winner.

Giesolo de Lou : 77 races, 40 wins (22 Gr.), 1 773 453 euros

In 2001, 5 wins, Hugo Abergs Memorial (Gr.1) in Jägersro, Prix des Meilleurs (Gr.1) in Münich, des Ducs de Normandie (Gr.2) in Caen, Coupe du Monde de Trot (5th Trial) (Gr.2), Prix Roger Céran-Maillard in Lisieux, second to Victory Tilly in Jubileumspokalen (Gr.1) in Solvalla, 3rd Prix de Washington (Gr.2).

In 2002, winner of his second race, Prix de la Ville de Guise (Gr.3) at Laval, defeating Hirosaka, then second to Jackhammer in Grand Prix du Sud-Ouest (Gr.2) at Beaumont-de-Lomagne, before finishing third to Fridhems Ambra and Revenue in the Forus Open, in Norway (1 609 m - autostart).

Other main wins, along his career : the Elite Rennen in front of Varenne, the Copenhagen Cup, the Finlandia Ajo, the Grand Prix de Waregem, the Graf Kalmann Hunyady in Wien or the Prix de La Haye in Enghien.

Some news in french " Malheureusement, le dimanche 16 juin, Giesolo de Lou a été victime d'un très grave accident au paddock (multifractures du paturon postérieur) mettant sa vie en grand danger.

Jean-Etienne Dubois, radieux au retour des courses de Vincennes où il venait de remporter un classique avec Lucky d'Hilly mesurait tout le coté éphémère du bonheur avec les chevaux, quand il vit Giesolo de Lou prostré, immobile, et déjà tout en eau au milieu de son paddock. Il devinait l'ampleur des dégâts.

Transporté immédiatement à la clinique de Grosbois, il s'agissait avant tout de sauver Giesolo de Lou d'une fin tragique qu'un tel crack ne méritait pas,

L'opération étant impossible on fit le nécessaire pour tenter de lui sauver la vie (plâtre, radio tous les 48 h etc...)

L'espoir résultait dans le fait que Giesolo de Lou se montre coopérant et courageux en ces circonstances délicates. L'expérience scientifique considère qu'un délai de 20 jours est nécessaire pour émettre un pronostic favorable de survie. C'est la raison pour laquelle nous ne vous donnions aucune information en cette tragique circonstance.

Nous sommes arrivés au terme de ce délai et nous espérons que Giesolo de Lou s'en tirera après une période de 2 mois d'immobilisation et de soins, et coulera une paisible retraite chez ses éleveurs au Haras de Lou."

E-mail from the breeders, Mr. and Mrs. Germain, july 8.

One day before the 4th Trial of the World Cup in Vincennes, Paris-Turf published an interview of Jean-Etienne Dubois : "The horse is saved!"
He will, of course, never race again. Bye bye Champion !

Giesolo de Lou definitely left us on a sad day of august 2006.

Vincent Le Roy

---